Mizuma & Kips is pleased to present a solo exhibition "TRIP" by CAZUL from August 3rd to 28th.
This exhibition, which is based on the theme of CAZUL's own journey, depicts the world of CAZUL where many of the characters he imagines (or creates) appear, and the world flies around the past and the future, changing from pop to real and vice versa. In there exists a story, where the world is drawn as it passes through the artist's filter to depict his past experience and knowledge, as well as the future.
It is our pleasure to invite you to Mizuma & Kips, to experience the amusement park-like outlook of CAZUL's world.
During the exhibition, we will also be offering collaboration items with D/HILL for sale.
-Artist Statement-
Influenced by Punk Rock in the 80's such as The Clash, and inspired by their radical lyrics and fashion, I used to use my creativity to customize leather jackets, instead of painting on canvases. Unlike Punk Rock, now I use painting on canvas to expresses the current social issues and dissatisfaction, rather than lyrics and voices.
I am also influenced by and adore the color pallets of 70's cartoons such as "Wacky Races" and "Tom and Jerry" and have produced works with a mix of classical and vivid primary colors. Using my own unique technique, I call "Double Hand" where I use a mix of spray paint technique acquired through doing graffiti and household paint which is the base of all my work, to express my work onto the canvases.
The turquoise blue, which is the main color variation of my work, is the color I became fascinated with during the trip to Turkey, and I am particular about producing colors. I take inspirations not only from music and films, but also from cultures of various countries I have visited. Based on my own experience, the works characterize the things I feel in my daily life and make them appear as storytellers in my work.
For the first time in my life, I am able to hold an exhibition in New York City, where the art scene in competitive and fierce, and I am very pleased to be able to showcase my works to the local audience. We hope you will enjoy the pop and at same time hardened world view of CAZUL.
D/HILL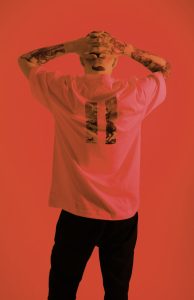 D/HILL is a designer brand founded by Tyler Oh, a world-class downhill skateboarder from LA, who also runs D/HILL SOUND (music) and D/HILL GALLERY (art), among other activities. D/HILL Wear is an apparel line that aims to create art-like products by reinterpreting street wear while utilizing the experience of many designers from collection brands. This time, the brand created a one-of-a-kind art collection wear based on the collaboration wear with CAZUL. The exclusive pieces will be exhibited and sold by using rare deadstock fabrics and patchwork of paintings and prints of great figures from the past. D/HILL, who has collaborated with numerous brands and artists, next chose works from the Van Gogh Museum in the Netherlands as basis. This new special collaboration will go on sale in August at Barneys New York in Japan, and at the same time, D/HILL's art collection will be on display at Mizuma & Kips gallery in New York. This August will surely be an artistic month for D/HILL.
<Date> Wednesday, 3rd August – Sunday, 28th August 2022
<Opening time > 12pm – 6pm
Closed on Mondays & Tuesdays
<Venue> Mizuma & Kips
(324 Grand Street, New York, NY 10002)
Opening reception: Wednesday, 3rd August, 6pm – 8pm